about hair holistic
Curated Items with Clean Ingredients
Hair Holistic was founded in 2017 by Diana Osborne, a Toronto-based Holistic Hairstylist, and international Clean Beauty Educator. Since starting her career in 2006, it has spanned across North America and includes creative and branding photoshoots, media, mentoring, education and entrepreneurship. After a health crisis in 2016, she knew that there had to be a better way to work in a traditionally unhealthy industry.
Clean ingredients, without sacrificing the performance
The clean beauty industry has exploded recently, with consumers understanding more and more the impacts that what we use on our bodies everyday can impact our health. It can be very confusing to know what claims hold up, and how the products work. We don't believe that anyone should spend money on something that doesn't work, no matter how healthy it is.

As an experienced Hairstylist, Diana personally researches and tests every single product that we offer (and a lot don't make the cut), so you can trust what you're buying is the best. We curate a large selection to ensure that our products perform, on absolutely every hair type (and we mean it!).
We believe that you shouldn't have to sacrifice your health to have amazing hair
Nearly 1 in 3 beauty products in the US are labeled "clean"
Natural, organic*, clean, safe, sustainable, vegan* are not regulated terms

*UNLESS CERTIFIED BY A THIRD PARTY ORG
Research carried out in Europe found that 42% of green claims were exaggerated, false, or deceptive.
People use an average of 10 products a day, containing 168 different chemicals.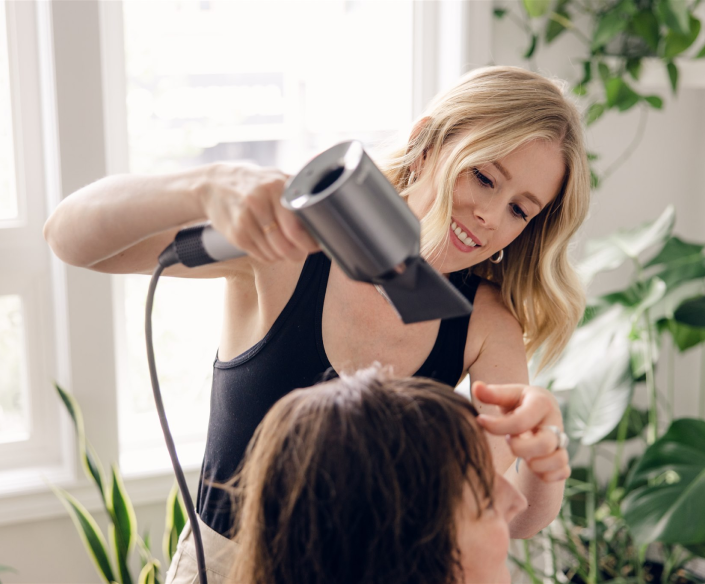 Focusing on Clean Beauty, Sustainability and Conscious Business
Hair Holistic has steadily grown to include skincare, wellness and hair care tools to support you on your health journey. We partner with local companies as much as possible, run by like minded people that care about the ingredients they use, people, and our planet. 1% of all sales are donated to various organizations with a focus on providing clean water to our communities, Indigenous environmental organizations, 2sLGBTQ+ and BIPOC support.
"The most powerful self care we can offer ourselves is what we do in our daily lives...
This has been the most powerful healing tool I've found. I truly feel lucky to have gone through the health challenges, because it led me to my true purpose. I feel inspired every day to have the opportunity to work with my community and help others feel empowered with the knowledge to make the best decision for their health."
– Diana Osborne, Founder, Holistic Hairstylist, Educator
Our Founder
Diana Osborne is the Founder of Hair Holistic, a Holistic Hairstylist and international Clean Beauty Educator. Her career started in 2006 and has since spanned across North America. Her true passions lie in caring for others, and that is expressed in such a beautiful way through doing hair. She found a rich calling, working behind the chair with clients, on editorial and creative photoshoots, media work, education and finally, entrepreneurship. After a decade in her career, Diana was challenged by a health crisis, pushing her to truly take care of herself by changing the products that she used everyday.

Diana is incredibly passionate about education focusing on clean beauty, sustainability and conscious business.